Product Summary
The TMP82C79P-2 is a programmable keyboard/display interface. The keyboard portion can provide a scanned interface up to 64-contact key matrix. Also, the keyboard portion of TMP82C79P-2 can interface to an array of sensors or a strobed interface keyboard. Key depressions can be 2-key lockout or N-key rollover. The display portion of TMP82C79P-2 has 16 X 8 bits display RAM which can be treated as dual 16 X 4 bits. Both right entry and left entry display formats are possible.
Parametrics
TMP82C79P-2 absolute maximum ratings: (1)Vcc supply voltage: -0.5 to 7.0V; (2)storage temperature range: -65 to 150 ℃; (3)input voltage: -0.5 to Vcc+0.5 V;(4)output voltage: -0.5 to Vcc+0.5 V; (5)soldering temperature: 260 ℃; (6)power dissipation: 250 mW; (7)operating temperature range: -40 to 85 ℃.
Features
TMP82C79P-2 features: (1)simultaneous keyboard display operation; (2)scanned keyboard mode; (3)scanned sensor matrix mode; (4)strobed input entry mode; (5)Built-in 8-Character FIFO or 64 bit sensor RAM; (6)programmable 2-key lockout or N-key rollover with contact debounce; (7)built-in 16 X 8bit display RAM; (8)programmable scan timing; (9)extend operating temperature range -40 to+85 ℃.
Diagrams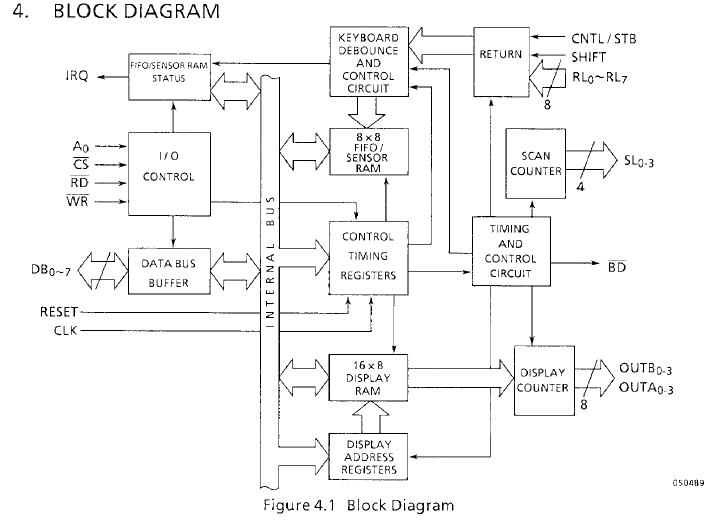 Image
Part No
Mfg
Description
Pricing
(USD)
Quantity

TMP82C79P-2

Other



Data Sheet

Negotiable
Image
Part No
Mfg
Description
Pricing
(USD)
Quantity

TMP8049PI-6

Other



Data Sheet

Negotiable

TMP814PWR

Texas Instruments

Motor / Motion / Ignition Controllers & Drivers Fan Motor Pre-Driver

Data Sheet



| | |
| --- | --- |
| 0-1: | $0.47 |
| 1-25: | $0.37 |
| 25-100: | $0.34 |
| 100-250: | $0.30 |


TMP815PWR

Texas Instruments

Motor / Motion / Ignition Controllers & Drivers Sgl-Ph Full-Wave Fan-Motor Pre-Driver

Data Sheet



| | |
| --- | --- |
| 0-1: | $0.47 |
| 1-25: | $0.37 |
| 25-100: | $0.34 |
| 100-250: | $0.30 |


TMP816PWR

Texas Instruments

Motor / Motion / Ignition Controllers & Drivers Sgl-Ph Full-Wave Fan-Motor Pre-Driver

Data Sheet



| | |
| --- | --- |
| 0-1400: | $0.23 |
| 1400-2000: | $0.21 |
| 2000-5000: | $0.20 |
| 5000-10000: | $0.20 |


TMP821DR

Texas Instruments

Motor / Motion / Ignition Controllers & Drivers Two-Phase Half-Wave Motor Predriver

Data Sheet



| | |
| --- | --- |
| 0-1: | $0.32 |
| 1-25: | $0.25 |
| 25-100: | $0.22 |
| 100-250: | $0.19 |


TMP821DRG4

Texas Instruments

Motor / Motion / Ignition Controllers & Drivers Two-Phase Half-Wave Motor Predriver

Data Sheet



| | |
| --- | --- |
| 0-1: | $0.32 |
| 1-25: | $0.25 |
| 25-100: | $0.22 |
| 100-250: | $0.19 |